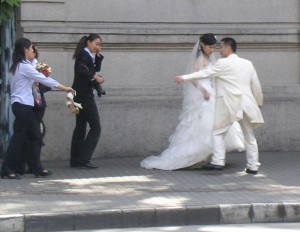 The New Chinese Affluents.
Read about the ways Chinese affluents define luxury in light of Chinese history and culture, and how this understanding shapes their perceptions of Western luxury advertising. "What do affluent Chinese consumers want?" PDF
Global marketing demands knowing how consumers in emerging markets construct meanings in the marketplace, not just translating advertising from one language to another. Marketing Semiotics has managed multimarket international studies for global brands in Asia, Europe, and Mexico. Our international research partners facilitate our delivery of economical, timely, and accurate consumer insights. Our Team.
Becoming a Consumer in China;
Since 2001 Laura Oswald has interviewed housewives, college students, and affluent consumers on a range of topics that reflect how consumers in emerging markets adapt to global consumer culture. We explore how branded goods contribute to their sense of identity, the importance of Confucianism in their perception of quality, and the influence of emerging Chinese nationalism on their brand preferences.
The Luxury Sector in China.
Since 2007 Laura Oswald has been researching the rapidly growing luxury sector in China. Our research into the luxury sector in China revealed unusual distinctions between the perceptions and culture of luxury in China and the West that have important implications for marketers trying to leverage their brands in the rapidly growing luxury market in China.
"Branding China: Interviews with Women in Shanghai," CGBL ONLINE: The eNewsletter of the Center on Global Brand Leadership, March 2002, http://www.globalbrands.org/newsletter/cgblonline.html.
Case Studies including: China Luxury Sector, Lever Personal Care, Nestea China™, ESSEC, Paris.